Yummy Blueberry Oats Greek Yogurt Muffins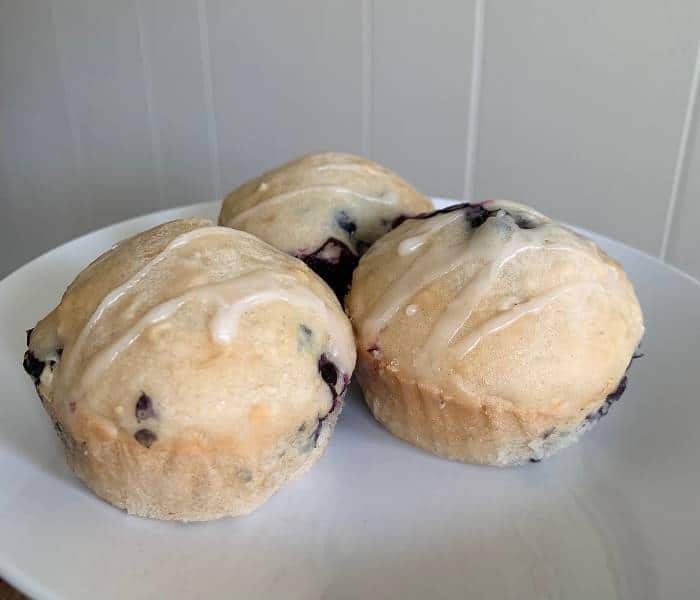 Warning: these blueberry oats greek yogurt muffins are highly delicious.
They're super moist and fluffy, along with the additional flavor from the blueberries and fresh lemon juice.
Gotta Have Those Oats!
And they contain oats, enough said:) Once you take that first bite, you'll be craving for more (trust me).
And on the other hand, if you've never eaten a Greek yogurt muffin before; let me fill you in on some details..
Greek Yogurt in Baking
If you want super moist muffins, cakes, and even brownies, etc., add in Greek yogurt.
And you really don't need to add a whole lot. Many people replace part or half of the amount of fats such as butter or oil with Greek yogurt.
This helps to make their favorite dessert more healthy. Especially since Greek yogurt is lower in fat and cholesterol than most butters and oils.
Try Replacing Oil and Butter With Greek Yogurt..
You can start out by swapping 1/4 the amount (or 1/2 if you're brave) of butter or oil needed with Greek yogurt to see how you like it.
You really shouldn't notice a big difference in taste. You may notice a slight hint of tanginess from the yogurt, but that's about it.
But it actually adds to the overall flavor and texture, in my opinion. What do you think?
More Yummy Muffin Recipes You'll Love:
I do have a couple more other muffin recipes besides these yummy blueberry oats Greek yogurt muffins, that are equally as delicious. And they're easy to make as well.
Chocolate Chip Almond Butter Muffin Recipe. These muffins are absolutely delicious (and so soft and fluffy). I mean, what's better than pairing up almond butter with chocolate chips, right?
Healthy Lemon Muffins. These are some of the most delicious and moist muffins that I've created. The tart lemon flavor tastes amazing along with their soft texture.
The Secret Ingredient For High Rising and Super Fluffy Muffins – Apple Cider Vinegar
I'll let you in on a top secret tip: add about a 1/2 tsp of apple cider vinegar to your muffin and cake batters.
That should be enough to make your muffins and cakes rise higher and to be at their optimal fluffiness.
But if you want to experiment, try adding a full teaspoon of the vinegar. I do this sometimes if the recipe makes a lot of batter (over 2 cups).
And this ensures a high perfect dome to my muffins and for cake layers with more height.
I'd Love to Know..
*I'd love to know if you see an improvement in the rise/fluffiness of your baked goods after adding the acv (you should)*
Besides adding more rise and lift to baked goods, apple cider vinegar has a lot of nutritional benefits. Read this super informative article for more info.
Yummy Blueberry Oats Greek Yogurt Muffins Ingredients
You don't need to worry about getting out any fancy ingredients for these muffins – only simple basic ones.
All-Purpose Flour
Baking Powder
Baking Soda
Salt
Regular Cane Sugar
Quick Cooking Oats: I'm not sure how the larger texture of rolled oats would work in these muffins. If you try using rolled oats – let me know how it worked out for you.
Milk: Feel free to use unsweetened dairy free milk also. This is what I used.
Low-Fat Greek Yogurt: If you only have full-fat Greek yogurt on hand, you can use that instead. The muffins will still be relatively healthy since you only need a small amount.

*For a vegan Greek yogurt option, there are plenty of non-dairy options available nowadays. One such dairy-free option worth checking out is Forager cashew milk yogurt. It's supposedly great to use in various baking recipes*
Unsweetened Applesauce
Freshly Squeezed Lemon Juice: I highly recommend getting your lemon juice from a real lemon. It's from a natural source and tastes way better.
Vanilla Extract
Apple Cider Vinegar
Vegetable or Organic Canola Oil (only 2 tsp needed). If you'd like, you can just leave out the oil since it's a small amount.
Fresh Blueberries: It's best to use fresh blueberries for this recipe. But if you don't have any fresh ones, frozen blueberries can be used as an alternative.

*Just make sure that the blueberries are frozen solid before you add them to the batter. If they are thawed in any way, it will cause the batter to turn blue – unless you don't mind that happening*
Lemon Glaze Ingredients: Powdered sugar, freshly squeezed lemon juice, and milk (regular or dairy-free).
Well there you have it. I think these yummy blueberry oats Greek yogurt muffins are so delicious. I hope you think so too. Thank you so much – and God bless!
Yummy Blueberry Oats Greek Yogurt Muffins
You can't go wrong with trying out this super easy blueberry Greek yogurt muffin recipe. I'm telling you – these muffins are really delicious!
Ingredients
1 3/4

cups

all-purpose flour

1 1/4

tsp

baking powder

1/2

tsp

baking soda

1/2

tsp

salt

1/4

cup

and 1 1/2 tbsp cane sugar

1/4

cup

quick-cooking oats

1

cup

and 1/2 tbsp milk (dairy or dairy-free)

2 1/2

tbsp

Greek yogurt (or a non-dairy alternative)

2

tbsp

unsweetened applesauce

1/2

lemon

freshly squeezed

1/2

tsp

vanilla extract

1 1/4

tsp

apple cider vinegar

2

tsp

oil (optional) such as vegetable, organic canola, extra virgin olive oil, etc.
Instructions
Preheat your oven to 350 degrees. In a large mixing bowl thoroughly combine all the dry ingredients (flour thru oats).

In a separate medium bowl combine all of the wet ingredients (milk thru oil) very well. This is easier with a fork.

Add the combined wet ingredients to the dry ingredients. Stir just until the batter is mostly smooth.

Add in the blueberries, and gently stir them into the batter.

Grease or oil 11 muffin cavities. Divide the batter evenly between them.

Place them in the oven to bake from 23-25 minutes. *Test with a toothpick to make sure they're done*

After the muffins have cooled off, you can make the glaze (step 6).

Just combine all of the glaze ingredients until very smooth. *It's much easier to do this using a fork*

Drizzle your desired amount of glaze over the muffins. Afterwards, let the muffins sit for a few minutes so that the glaze can set. Enjoy!

Lemon Glaze Ingredients:

1/2 cup powdered sugar

1/2 tbsp freshly squeezed lemon juice (half a lemon)

1 1/4 tsp milk (dairy or dairy-free)
---
---