Healthy Muffin Recipes
Check out these healthy muffin recipes for breakfast, brunch, and desserts. They're fluffy, tasty, and made with wholesome ingredients.
Muffins are a great grab-and-go breakfast food; you can make them any way you like, sweet or savory, large or small. And not just for breakfast.
Muffins are also great for a healthy dessert or snack. You can top them with your favorite toppings like I do. I've curated my best muffin recipes for a healthy breakfast, lunch, or dessert.
Why Muffins?
You may wonder, "What's so special about muffins?" For one, muffins are easy and foolproof, even if you're a beginner baker.
Muffins are also healthier than cupcakes because they contain less sugar. Plus, they are budget-friendly; you only need a few ingredients to make them.
Muffins also make for the perfect quick snack and party food. I'm really into muffins because the batter can be customized with your favorite add-ins, such as dried fruit, chopped nuts, etc.
Ingredients for Making Healthy Muffins
You usually only need the following ingredients to make a healthy muffin batter base. Some recipes may require additional ingredients.
Flour: You can use anything flour you prefer, whether all-purpose flour, spelt flour, whole wheat flour, or even einkorn.
Milk: Dairy milk. You can easily swap this for non-dairy milk if you're vegan.
Baking Powder
Egg: One egg is usually sufficient for a batch of 11/12 muffins. Some recipes call for an extra one.
Apple Cider Vinegar: This is an optional ingredient, but I always add it because it helps my muffins rise better, especially for my vegan muffin recipes.
Oil: A light cooking oil such as vegetable or canola oil works well for frying pancakes. I usually use organic canola oil.
Salt: Balances and enhances the flavor of most baked goods. You only need a small amount, typically.
Sugar: Regular cane sugar or your preferred type of sugar.
Add-ins: Depending on the type of muffin recipe, you can customize your batter with sliced fruits, nuts, grated cheese, chocolate chips, or blueberries.
Muffin Pan and Liners: You need these to bake your muffins. If you don't have paper muffin liners, just spray your muffin pan with cooking spray to prevent your muffins from sticking to the pan.
10 Healthy Muffin Recipes for Breakfasts and Desserts
Our muffin recipes are unique, easy to make, and flavorful. Here are our best healthy muffin recipes.
These moist spelt muffins may look plain and simple, but their looks are only hiding their true colors. They have a vibrant, rich taste and burst with a wholesome, nutty flavor and a soft, melt-in-your-mouth texture.
They're healthy, and suitable for breakfast or an in-between snack.
This muffin recipe is easy and convenient to make. You only need a large bowl to mix up all the ingredients. And the outcome is so moist and delicious that you'll forget they're even healthy.
Enjoy them as is, or add in some nuts, oats, or chocolate chips to your batter before baking.
With this lemon muffin recipe, healthy does not mean dull and tasteless. The tangy lemon flavor of these muffins creates a really satisfying eating experience.
These lemon muffins are soft, light, and fluffy despite being low in sugar. This recipe produces the yummiest lemon muffins using simple ingredients (yogurt, oil, egg, milk, and flour).
They're super easy to make, and bake in about 24 minutes. You can eat them with any of your favorite toppings, including a tangy lemon glaze.
I added quick-cooking oats, chocolate chips, and peanut butter to regular baking ingredients, and these extremely delicious muffins came out.
These chocolate chip oatmeal peanut butter muffins make a great breakfast food, brunch, dessert, or party snack. Anyone can enjoy them—child or adult, vegan or non-vegan.
However, I used dairy-free milk and omitted eggs in this recipe, so it's vegan. You can make yours non-vegan by using dairy milk and eggs.
They're so simple to make: you only need a large mixing bowl. They take only 15 minutes to prepare and only about 22 minutes to bake.
The vanilla flavor shines bright in this easy and healthy muffin recipe. This recipe produces soft, moist, and deliciously fluffy muffins with a light buttery flavor and a hint of vanilla.
I made this recipe low-sugar and low-oil, which is excellent for heart health. I also included a bit of yogurt for added protein.
Though these muffins look plain and unassuming, there's more than meets the eye here. These muffins are some of the tastiest and fluffiest vanilla muffins I've had.
You can enjoy them with or without toppings. Plus, they're easy to make.
These pumpkin chocolate chip oat muffins are not only healthy, but they're also bursting with flavors.
Besides the standard muffin ingredients, pumpkin puree, chocolate chips, and oats, I added cinnamon, nutmeg, and ground ginger to this recipe, and the result was terrific.
The muffins came out tasty, flavorful, moist, and fluffy. I'm confident you'll love them as much as I do.
Aside from the usual measuring spoons and cups, you only need one mixing bowl to whip up these scrumptious muffins.
They're so delicious you really don't need any toppings to enjoy them. Be sure to sprinkle some chocolate chips on top before putting them in the oven for a more chocolatey experience.
These scrumptious muffins taste too good to be healthy—no exaggerations! Yet, they're very nutritious and healthy. Einkorn whole wheat flour is lower in gluten than regular whole wheat flour. As a result, it's great for easier digestion.
This muffin recipe requires only a small amount of chocolate chips, coconut sugar, or light brown sugar instead of regular cane sugar.
It's a simple, beginner-friendly recipe that you can easily mix by hand; there's no need for a mixer. And though this recipe is vegan, you can make yours regular by swapping the non-dairy ingredients for dairy ones.
An almond butter and chocolate chip combination produced these moist, fluffy, and delicious muffins. I used spelt flour in this recipe to make it more healthy, or you can substitute it with regular flour.
I also use dairy-free almond milk, which helps to enhance the nutty flavor of the almond butter. In addition, I added a little cinnamon to enhance the overall flavor for a memorable eating experience.
This recipe combines heart-healthy oat flour, non-dairy yogurt, and chocolate (namely cocoa powder) with regular muffin ingredients.
This results in the most delicious, healthy, and decadent double chocolate muffins I've ever tasted.
In addition to being vegan, I used extra virgin olive oil instead of regular vegetable oil, creating a healthy and wholesome muffin recipe.
Although this recipe is vegan (no eggs or dairy), you can make yours non-vegan by including an egg and using regular milk.
It's simple to make, and you only need one large bowl to mix your batter. You can enjoy this recipe with or without any additional toppings. But I'm sure you'll top them with some yummy chocolate chips!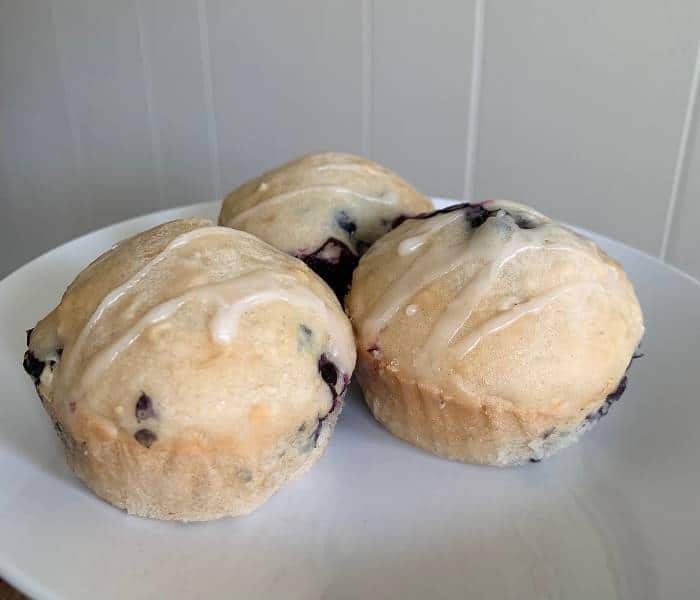 Only a few recipes taste as delicious as this one. This recipe's combination of blueberries, oats, and Greek yogurt produced these super moist, fluffy, and incredibly delicious muffins. You can't eat one without wanting more!
I replaced oil and butter with non-dairy, unsweetened Greek yogurt for a healthier recipe, and I loved the outcome. Greek yogurt is lower in fat and cholesterol and great for the heart.
And besides being healthy, it helped enhance my muffins' overall flavor and texture. You can eat these plain or with your favorite toppings. I topped mine with a lemon glaze.
You'll love this recipe if you love oats, peanut butter, and chocolate like I do. Oat flour meets cocoa powder and peanut butter in this recipe to create the healthiest, scrumptious muffins ever.
This recipe is healthy and super easy to make. If you don't have oat flour but have some oats in your kitchen, simply blend your oats, and you're good to go.
These muffins are not only delicious but also very wholesome and can be enjoyed by anyone. While this recipe is vegan, you can make yours non-vegan by swapping the dairy-free ingredients.
Add-ins for a Delectable Muffin Breakfast or Snack
Plain and basic is good, but healthy and tasty add-ins make your muffins more memorable. You can combine two or more add-ins for a savory, sweet or unique muffin recipe. Here are some of my favorites:
Berries: Blueberries, raspberries, strawberries, etc.
Fresh or Dried Fruits: Apples, bananas, or lemon zest. Dried fruits like raisins and dates are also great add-ins.
Nut Butter: Almond butter, peanut butter, etc.
Nuts: Chopped or sliced almonds, cashews, pecans, peanuts, hazelnuts, or walnuts.
Seeds: Chia seeds, poppy seeds, pumpkin seeds, sesame seeds, or sunflower seeds are all possible options.
Shredded Zucchini: For an added nutritional boost.
How to Make Your Muffins Vegan or Dairy-free
Muffins are traditionally made with eggs and dairy milk. However, you can make yours vegan by simply omitting the egg and using plant-based milk.
There are several non-dairy milks on the market, but I prefer unsweetened almond milk or soy milk. Remember to substitute Greek yogurt for non-dairy Greek yogurt when making a recipe that calls for yogurt.
Tips for Making Healthy and Tasty Muffins
Don't overbeat your batter: Your muffin batter should be fairly smooth, but don't overbeat it. Overbeating your batter will reduce the fluffiness of your muffins. Some small lumps are okay, especially if you include add-ins.
Use paper muffin liners: Paper muffin liners are essential in preventing your muffins from sticking to the pan. If you don't use these, grease your pan with oil or spray it with cooking spray.
Keep your ingredients at room temperature: Use room temperature eggs, milk, yogurt, or other dairy products that your muffin recipe calls for. This helps you to incorporate the ingredients better. It also helps the texture of the baked goods to be more uniform and at its best.
Customize with add-ins and toppings: Customize your muffins with your favorite add-ins, whether dried fruits or nuts. You can also eat them topped with fresh fruit, nuts, whipped cream, or other toppings.
Use frozen blueberries: If you add blueberries to your batter, ensure they're frozen unless you don't mind a bluish-tinted batter.
Frequently Asked Questions
Are Muffins Healthy?
Yes, muffins can be healthy. They generally contain less sugar than other baked goods. In addition, they can include fruits, nuts, or other wholesome add-ins.
To make your muffins healthier, consider using whole wheat or spelt flour, less sugar and oil, and non-dairy products.
Can I Make My Muffins Vegan?
Yes, you can easily make your muffins vegan. Most of the healthy muffin recipes in this article are vegan. Simply omit the egg, and use non-dairy milk and other non-dairy add-ins in your batter.
How long can I store homemade muffins?
You can usually store most homemade muffins in the refrigerator for up to a week. But I suggest going only 2-3 days for the best flavor. Put them in an airtight container before refrigerating them to maintain their freshness.
You can also freeze the muffins, and when you're ready to eat them, you let them thaw at room temperature and warm them in an oven.
You can also store most homemade muffins at room temperature for a few days. That is unless they contain perishable ingredients or toppings.
How do I know when my muffins are done?
Muffins typically bake for 20 to 25 minutes. You can check if your muffins are done by inserting a toothpick in the middle. If it comes out clean, your muffins are done.
Can I Store My Muffin Batter?
You can store muffin batter in the refrigerator for up to five days. But I don't keep it in the fridge for that long, maybe two days at the most, for the freshest taste.
Other Delightful Breakfast options
You've seen my top healthy muffin recipes, and I do hope you like them. While you're here, check out other delectable breakfast and dessert recipes I've made.
---
---